Why POK now?

PM Modi wants POK in India by Aug 2022, to celebrate India's platinum jubilee (75th year independence day). Winter is an advantage to stop ground attack from enemy. So has to happen before snow starts to melt in March-Apr. Thus year is preferred (read reasons for it below).
How will it be done?
Due to international pressure, War Engagement can't go beyond 10-15 days. Since quick action is required with minimal casualty, India will attempt Air space takeover only now. Since parliament has made claim on POK, India does not need any more legal framework. India need to neutralize radars & air assets threatening its planes in POK. India may take over certain airports in G&B (like Gilgit and Skardu). It can install its own air assets in POK and provide heli support to stationed troops.
If ground forces has to invade, it will be spilling lot of blood and months of fighting. So it will be done smartly in staged manner. Once POK airspace is taken, Pakistan faces disintegration challenge. Pak will be pursued to withdraw from POK, if it worries about its future existence. Pak has to either engage India to reoccupy POK airspace risking war or cede control of POK. It can't afford a war. So, it has to pull back it's Army. This diplomacy needs more than an years time. So air attack has to happen now (in 2021), before winter ends.
List of Indicators

The list of indicators will be updated till End Jan or till incident happens (earlier of the two).
(18/Dec/2020) Al-Jazeera news report of pak Foreign Minister indicating, India sought approval from its partners for an attack on pak (

https://www.aljazeera.com/news/2020/12/18/pakistan-alleges-india-preparing-for-surgical

). Pr-Approval indicates a planned Offencive-Defence from India. This is the first time such a thing is reported in press for Indian Army after Bangladesh liberation. Indian action on pak, was always a reaction, after a terror attack. Pak complaining for the first time about Aggressive planning from India. Pak is under severe stress & fear. Pak SC ordered rebuilding of demolished Hindhu temple in KPK, very swiftly. Imagine getting SC level order within days, that too in Pakistan on a religious matter. Police Arrested many men (100+) responsible for this attack also. Actions are out of fear now in Pakistan. Actions speaks louder than words.
(May-July 2020) - China occupied LAC to stop India from attacking Pak. No other reason for such a strong action from China. India ready at both borders. China also suspend OBOR construction blaming Pak corruption. But it is worried about projects future, after India taking over POK.
(Dec2020) - India extending war wastage stocks to 15 days from 10 days and acquiring all shortages with emergency approvals (

https://thediplomat.com/2020/12/indian-military-pushes-ahead-with-war-stockpiling/

)
Vaccine Diplomacy - India getting an unprecedented lever in 2021. Nations can't boycott India now without hurting themselves. They will loose their citizen if they delay/block vaccine supply from India. Nations like Norway will simply go silent on Indian attacks now.
Unnecessary Farmers protest and blocking Delhi roads. It is a substitute of Military seize of the Indian capital to stop Delhi's actions in border. Vested interests acting in backdoor for the protests, are exposed on a daily basis.
Foreign minister on a 3 day visit to Srilanka. He is on a mission to force srilanka to sign a pact to deny birthing rights to Chinese military ships in Srilanka. India urgently securing it's southern waterways in Indian ocean.
Donald Trump - May be interested in creating complicated head aches for new administration. New president in USA 20/Jan/2021
China celebrating 100th birthday of CCP (ruling party) formation in July 2021. It is big show off in China. China can't afford a debacle now. Covid has dented their pride already. Any loss of face in border from Indians will harm this function and will permanently dent CCP Image. China can't take risks. It is simply posturing. World also wants to punish China for imposing Covid. India has an unparalleled support to teach a lesson to China,. China has shown it's agrression and has been caught for being on the wrong side of international law. Along with vaccine diplomacy, this world support is giving the necessary shield/protection for India's actions. India can take over Aksaichin (China occupied J&K) also now, instead of POK. India is in such a powerful position now.
India just entered UN SC for 2 year term. So, it can act now without bar. It is involved in UNSC meetings discussion.
Middle East politics has tilted in favor of India. UAE demanded return of 2 Billion $ loan from Pak and barred entry of Pak citizen. Earlier, India had to beg for repatriation of its underworld goons from gulf,. Its a huge reversal of direction. Sheiks showing national interest more than religious interests now. Pakistan has become too vulnerable without thier middle east backers.
Pak economy is in doll drums. COVID has ruined them on top of bad economics. Pakistan begging lifeline from creditors for its survival. Pak cut its military budget also. No money. Prices have sky rocketed. Pak can't afford a war now. If war is imposed, it will disintegrate. Politically, Opposition is doing mass nationwide protests.. They are threatening to resign enmass in Feb, if Imran khan does not resign. Baloochs and Pathan's (KPK) have increased their attacks on Pak military and are demanding Pak army to leave their territory. Pak is in its Weakest position. Best time to strike and end it's irritations. (

https://theprint.in/opinion/battered-economy-brewing-uprising-in-pakistan-means-india-cant-rule-out-adventurism-in-2021/578853/

)
USA has to end it's engagement in Afghanistan to pull out it's troops. USA wants India to take over. India insisting for POK takeover as a precondition. India is insisting to have a border with Afghanistan for such a role, as it's military needs to move in to Afghanistan if required. USA has agreed for this now. After US agreement, Chabahar port project in Iran is de-prioritized. Direct border is way cheaper to reach Afghanistan than via Iran.
British PM suddenly cancelling his participation as RD guest, citing Covid. He do not want to be in India, when this war happens. Britain created Kashmir conflict. If you all see, He should have been in India all the more due to Covid, at-least for a day, as Oxford vaccine is seen as a new partnership and direction between India & UK after Brexit. It Indicates, India might be striking Pak before Jan26 itself. May be before Jan20 when President switch over has to happen in USA.
Indian Govt can impose Covid lock-down easily and can have a better control inside country during war. Schools are closed, Citizen are maintaining highest discipline. Such a situation is not possible normally without imposing Emergency.
Modi Govt has stocked enough food (purchased with MSP) and has also transferred cash handouts to Farmers using DBT. It should be seen as an advanced cash assistance to poor to handle war lock-down. This indicates, Modi govt has no money shortage to wage war and it is fully prepared.
Anti India Nepal govt is removed now. India in control back in Nepal. China faced slap on its face for interfering in Nepal politics. Nepal will never be it's puppet.
(02/Jan/2021) CDS, Bipin Rawat visits forward Airbases (Assam & Arunachal) in Eastern Sector (

https://www.ndtv.com/india-news/chief-of-defence-staff-general-bipin-rawat-visits-forward-bases-in-arunachal-2346978

)
(23/Dec/2020) COAS, Gen Naravane visits forward posts ( Leh, Ladakh) in Eastern Sector (

https://www.telegraphindia.com/india/india-china-clash-naravane-visits-lac-forward-posts/cid/1801460

) - last visit 4/Sep/2020
(05/Jan/2021) Air Chief visits forward posts (Sikkim, Arunachal) in Eastern Sector.- (

https://www.newindianexpress.com/nation/2021/jan/06/iaf-chief-rks-bhadauria-assures-arunachal-pradesh-of-full-support-during-need-2246419.html

) last visit 4/Sep/2020
(04/Dec/2020) Govt creates new posts of Deputy Chief of Army Staff (Strategy), Director General Information Warfare (

https://www.hindustantimes.com/india-news/govt-creates-new-posts-of-deputy-chief-of-army-staff-strategy-director-general-information-warfare/story-7m33BdXid7y3KV2ocvT3hJ.html

)
Pakistan military put on high alert fearing an Indian attack (

https://www.dawn.com/news/1594910

)
(09/Jan/2021) India releasing captured China soldier
(02/Jan/2021) Massive protest in POK due to high inflation, especially hiked prices on wheat (https://zeenews.india.com/world/pakistan-occupied-jammu-and-kashmir-boils-in-anger-inefficient-administration-plunges-region-in-inflationary-spiral-2334720.html). This protest is happening since 8/Sep/2020. 8th Sep protest was against Dam constructions in POK by China.

(09/Jan/2021) Huge protest by Shias with dead corpses of 11 miners belonging to minority Hazara community. Imran calling it as a blackmail, generated anger across nation (https://www.dawn.com/news/1600574/slain-miners-laid-to-rest-in-quettas-hazara-town)
(10/Jan/2021) Night 12PM, entire blackout in Pakistan

(11/Jan/2021)

Pakistan Chief of Army Staff, General Qamar Javed Bajwa and

Director General ISI Lt. Gen. Faiz Hamid calls on PM Imran khan.

National Security situation was discussed during the meeting ( https://twitter.com/PTIofficial/status/1348633054512885763?s=20).

(12/Jan/2021) Annual press conference of Army chief, MM Naravane.


Pak and China form Potent Threat, their collusivity can't be wished away . Forces on High Alert all along LAC and LOC.

There was indeed a requirement of rebalancing towards northern borders and that is what we have put in place now. We are prepared to hold our ground as long it takes to achieve our national goals and objectives.

Pakistan still continues with Terror as it's State policy ,We reserve our right to respond at a time and place of our choosing with precision.

(15/Jan/2021)

Don't test our patience: COAS Gen MM Naravane's blunt message to China on the Ladakh border row, on Army Day

(15/Jan/2021) Pakistan is acting on petrol pumps. It indicates petrol scarcity and black marketing. PakPMO Tweets-> Under the directions of Prime Minister 609 petrol pumps have been sealed and about 4.5 million liters of petrol & diesel have been seized in the campaign against oil smugglers in the country.
(15/Jan/2021) Huge protest reported near Azad Patan bridge (entry point between Pakistan to POK) against Chinese construction of road and inflation.
(24/Jan/2021) PAK considering to pawn iconic 'Fatima-Jinnah' 759 Acre Public Amusement Park in the heart of Islamabad to raise Rs 500Bn loan
(26/Jan/2021) Delhi violence in the name of farmers tractor rally. Religious flags hoisted where national flag was ceremonially hoisted on Aug15th. 2 pictures.
(27/Jan/2021) -> 3rd Batch of 3 Rafales have arrived. Add to this 3 fighters delivered as 2nd Batch on Nov 4/2020 + First batch of 5 Rafales delivered on 29 July/2020. Total 11 out of 36 are in Indian kitty now(33%).
(28/Jan/2021) -> India is completing 50 years (Golden jubilee) since Bangladesh liberation. PM Modi Reminds this to nation. If India can fight to liberate sufferings of Bengali population, why can't it free up its own occupied lands in Kashmir, even after 50 year??

26th/Jan/2021 -> Delhi Incident photos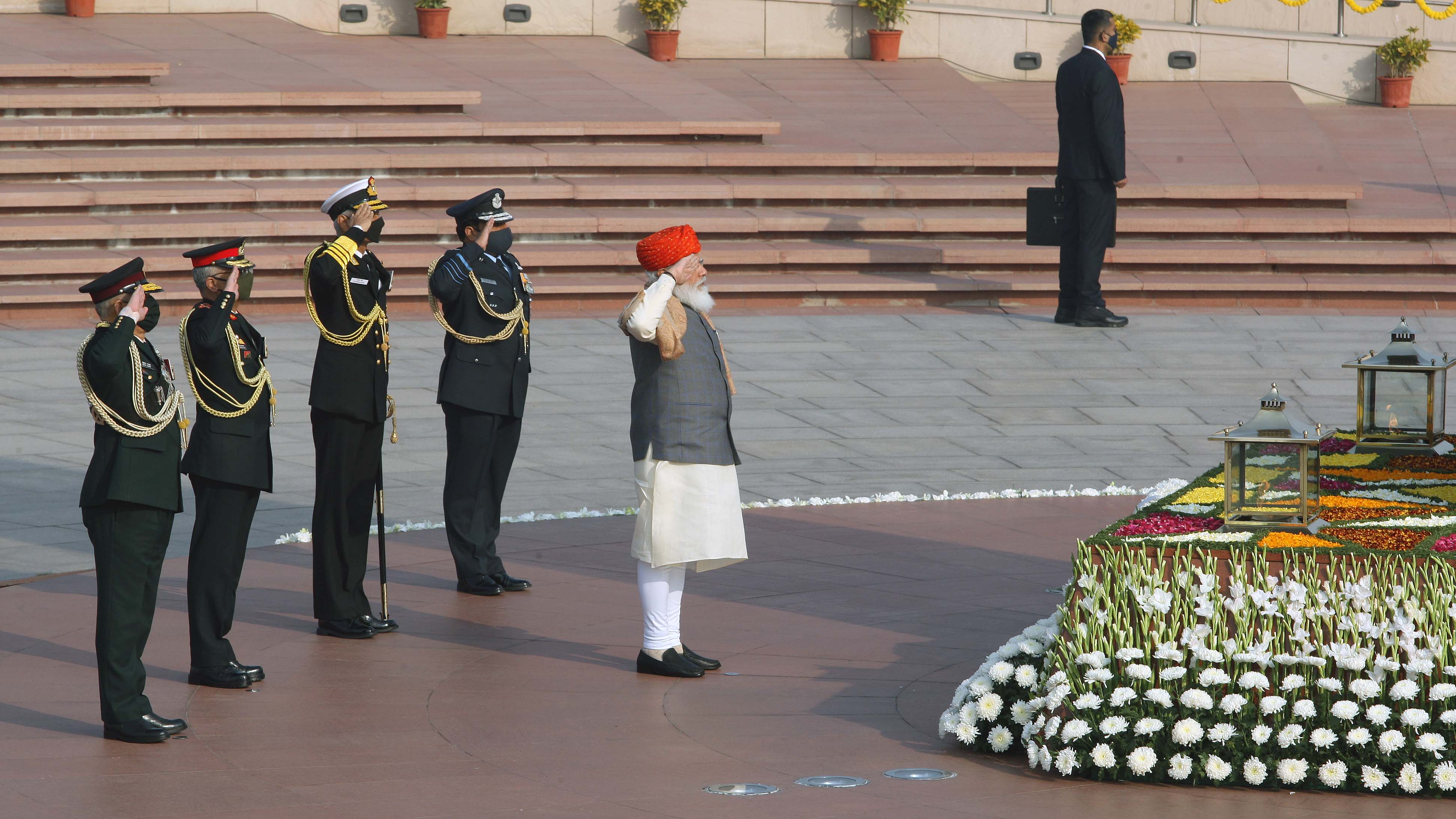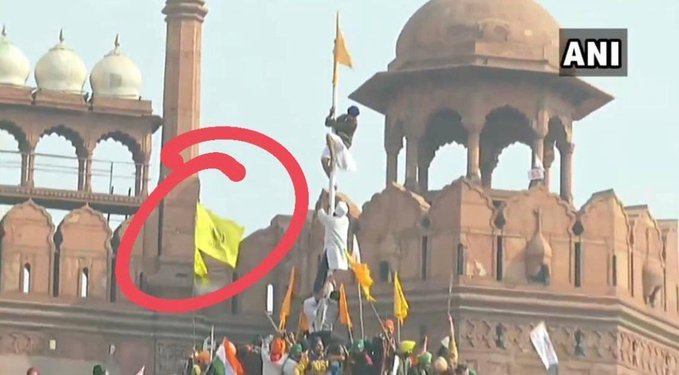 Will India-Pak break their own previous world record??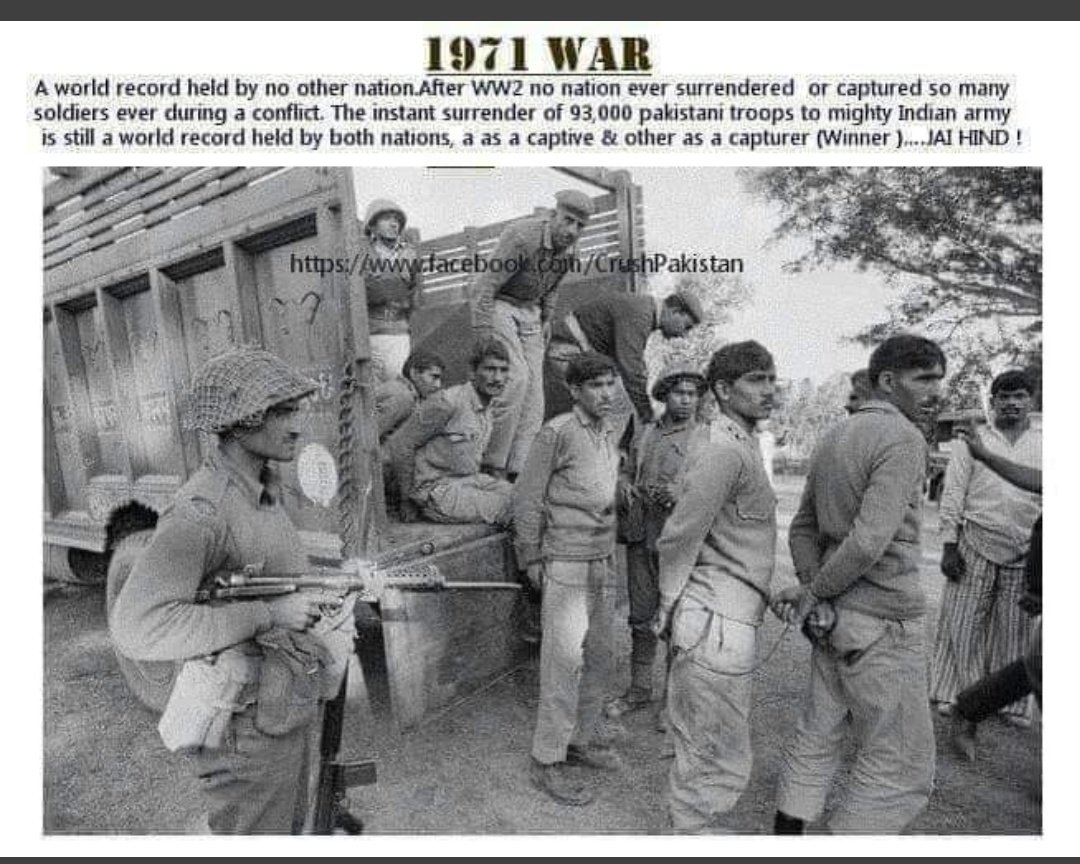 Soon Pakistan will be out of money to purchase fuel!